1. With me poetry has not been a purpose, but a passion.
2. Stupidity is a talent for misconception.
3. I have great faith in fools; self-confidence my friends call it.
4. There are few cases in which mere popularity should be considered a proper test of merit; but the case of song-writing is, I think, one of the few.
5. Science has not yet taught us if madness is or is not the sublimity of the intelligence.
6. To vilify a great man is the readiest way in which a little man can himself attain greatness.
7. Deep into that darkness peering, long I stood there, wondering, fearing, doubting, dreaming dreams no mortal ever dared to dream before.
8. That pleasure which is at once the most pure, the most elevating and the most intense, is derived, I maintain, from the contemplation of the beautiful.
9. I have, indeed, no abhorrence of danger, except in its absolute effect – in terror.
10. It will be found, in fact, that the ingenious are always fanciful, and the truly imaginative never otherwise than analytical.
11. Poetry is the rhythmical creation of beauty in words.
12. It is the nature of truth in general, as of some ores in particular, to be richest when most superficial.
13. The true genius shudders at incompleteness – and usually prefers silence to saying something which is not everything it should be.
14. I became insane, with long intervals of horrible sanity.
15. Beauty of whatever kind, in its supreme development, invariably excites the sensitive soul to tears.
16. I have no faith in human perfectibility. I think that human exertion will have no appreciable effect upon humanity. Man is now only more active – not more happy – nor more wise, than he was 6,000 years ago.
17. Experience has shown, and a true philosophy will always show, that a vast, perhaps the larger portion of the truth arises from the seemingly irrelevant.
18. In one case out of a hundred a point is excessively discussed because it is obscure; in the ninety-nine remaining it is obscure because it is excessively discussed.
19. The ninety and nine are with dreams, content but the hope of the world made new, is the hundredth man who is grimly bent on making those dreams come true.
20. I wish I could write as mysterious as a cat.
21. All religion, my friend, is simply evolved out of fraud, dear, greed, imagination, and poetry.
22. In criticism I will be bold, and as sternly, absolutely just with friend and foe. From this purpose nothing shall turn me.
23. Were I called on to define, very briefly, the term Art, I should call it 'the reproduction of what the Senses perceive in Nature through the veil of the soul.' The mere imitation, however accurate, of what is in Nature, entitles no man to the sacred name 'Artist.'
24. If you wish to forget anything on the spot, make a note that this thing is to be remembered.
25. The boundaries which divide Life from Death are at best shadowy and vague. Who shall say where the one ends, and where the other begins?
26. I am above the weakness of seeking to establish a sequence of cause and effect, between the disaster and the atrocity.
27. Words have no power to impress the mind without the exquisite horror of their reality.
28. Those who dream by day are cognizant of many things which escape those who dream only by night.
29. That man is not truly brave who is afraid either to seem or to be, when it suits him, a coward.
30. It is by no means an irrational fancy that, in a future existence, we shall look upon what we think our present existence, as a dream.
31. I would define, in brief, the poetry of words as the rhythmical creation of Beauty.
32. All that we see or seem is but a dream within a dream.
Terminology Equivalents Chart
Hebrew
Arabic
kosher
ḥalāl
shechita
dhabīḥa
shochet
dhābiḥ
halakha
sharīʿa
treif
ḥarām
Introduction
Observant Muslims and Jews only eat ḥalāl and kosher products, and face many of the same problems in finding appropriate meat products in the modern, secularized world. Due to the dearth of kosher meat products available, and even higher scarcity of ḥalāl meat, many Muslims feel comfortable purchasing kosher meat, believing that all kosher meats (and by extension kosher products) are necessarily ḥalāl. Other Muslims, due to either political or theological reasons, believe that it is impermissible  to purchase or consume anykosher meat products.
This paper seeks to discuss the question of the Islamic legal ruling on consuming koshermeat products. Therefore, political questions and personal values, which do not dictate the general ruling (aṣl) with respect to such products, will not be discussed.
Generally speaking (and as per Q. 4:160 and 3:50), halakhic laws are stricter than Islamic ones. This is shown not only in the foods that are permissible or impermissible, but also in the laws pertaining to slaughtering, cooking and consuming foods. Since the normative applications of Jewish law are stricter than those for Islamic law, in most cases these laws will not affect Muslims who wish to consume kosher, but would affect Jews who might be interested in ḥalāl meat. The most pertinent examples will be discussed in this paper.
Prohibitions Regarding Types of Animals and Foods
Both Jewish and Islamic laws prohibit the consumption of carrion, swine, insects, rodents and blood. Additionally, any food that is poisonous or immediately harmful to the human body would be prohibited. All solid food items prohibited by the Sharīʿa are also prohibited in Jewish law.
There are a number of significant items prohibited in the halakha but allowed by theSharīʿa.  The Qurʾān itself mentions the most common example, viz., certain types of animal fat (see Q. 6:146). Halakhic law specifies which types of fats and nerves are prohibited.[1]The majority of madhhabs allowed the Muslim to consume these parts that are typically not considered kosher after a Jewish slaughter. The only exception to this is the Mālikī school, which deems the consumption of these parts impermissible.
Other examples of items that are prohibited for Jews but allowed for Muslims include:
- Sharks, shellfish and crustaceans (lobster, crabs, etc.) [Note: for the Ḥanafīs these animals are also not permitted].
- Some types of birds (e.g., ostrich, emu).
- Camels (because it does not have a proper 'split hoof').[2]
Interestingly enough, the locust is an animal that is explicitly mentioned and allowed by bothhalakhic and Sharʿī texts.
Also note that Jewish law forbids mixing meat and dairy products together. Different Jewish authorities have different interpretations and rules for implementation – some even require two sets of kitchen utensils and separate areas of refrigerators for these two products. There is, of course, no equivalent in Islamic law.
Jewish law also has stringent rules regarding the religious washing and usage of utensils. For example, if a ceramic or porcelain utensil is used to cook a non-kosher food, that utensil can never be purified and used  for kosher cooking. However, if a metallic utensil has been used, it must be cleaned with soap and water, then left for a period of time, then immersed in boiling water under the supervision of an expert, before it may be used to cook with.[3]Islamic law, on the other hand, would only require the regular washing of any such utensil and would permit its subsequent usage to cook or consume ḥalāl products in.
The permissibility of gelatin and rennet are ongoing discussions in both faiths. The exact same spectrum of opinions exists in both Muslim and Jewish circles. It appears that most mainstream Jewish and Muslim authorities would not permit regularly available gelatin, since it is derived from either pork or non-ritually slaughtered animals (with minority dissenting opinions on both sides). Proper kosher gelatin is therefore typically derived from kosher fish (and, in even rarer cases, from kosher slaughtered animals, or from certain cows that have died natural deaths,[4] or from vegetable products). However, it should be noted that a product that is marked as kosher does not necessarily mean that all Jewish authorities believe it to be so. In fact, most yoghurt and candy products that are marked with circle-K are not approved by most Conservative and Orthodox Rabbis. Hence, Muslims need to know the different types of symbols used by the Jewish food industry, and their corresponding opinions, before they make a choice on whether a product that is marked askosher is in fact ḥalāl or not.
Cheese, on the other hand, appears to be an issue where the spectrum of opinions are the same, but the majorities of each are different. Most Jewish authorities would only allow cheese if produced from kosher rennet; most Muslim authorities would allow cheese from non-ḥalāl rennet because of the issue of istihlāk.[5] In both groups, there are dissenting minority opinions, but the minorities are on opposite sides.
There are some halakhic restrictions on vegetables and plants (for example, the orlah­, or fruit that grows during first three years after planting), and Jewish law is also stricter than Islamic law regarding insects found in fruits and vegetables, but these laws are not relevant to this discussion. Additionally, there are specific halakhic commandments for preparing Passover breads and prohibiting other foods that would also not concern Muslims.
For Muslims, the most common product that is allowed in Jewish law but prohibited in Islamic law are alcoholic beverages. Jewish law permits the consumption of 'kosher' beer and wine.
Similarities in Slaughtering an Animal
Once we understand the halakhic procedure for slaughtering animals, it will be possible to arrive at an Islamic verdict regarding its status.
First, the similarities. Jewish law and Islamic law both require that:
1) The animal must be alive when it is slaughtered (hence stunning or other procedures to render the animal unconscious should be avoided).
2) The animal must be killed with a sharp knife (hence, a blow to the head would render the animal treif and ḥarām).
3) The knife must cut the neck arteries of the animal: in particular, the trachea, esophagus, cartiod arteries and jugular veins should be cut, while leaving the spinal cord intact.
4) The blood must be drained out.
5) There must be minimal harm to the animal – a painless and quick slaughter is required.
All of these are points of agreement between Jewish and Islamic law.
Minor Differences
There are some minor differences between the requirements of the two faiths. These difference would generally be negligible and irrelevant to Muslims, but not to observant Jews.
1) Jewish law requires a specific type of person (called a shochet) to slaughter. Typically, the shochet is an observant male Jew trained in the practice of slaughter. Islamic law allows any male or female Christian, Muslim or Jew to sacrifice as long as that person follows the proper procedure of slaughtering. Therefore, it is primarily for this reason that a dhabīḥaanimal can never be kosher for observant Jews because the slaughter would be performed by a Muslim.
2) The perfection of the knife blade – Jewish law requires visual and physical inspection; Islamic law only requires a sharp knife even if there are some imperfections (e.g., minor abrasions and nicks would be permissible in Islam).
3) Jewish law requires one continuous stroke for a slaughter (moving the knife back and forth would be allowed), whereas Islamic law would prefer one stroke, but the slaughter would not be invalidated if the slaughterer quickly followed a first improper stroke with another one.
4) In Jewish law, the knife must be at least two times the size of the animal's neck, and perfectly straight, whereas there is no such requirement in Islam.
5) Jewish law completely forbids stunning, and a stunned animal would be treif; Islamic law is not unified on this point, as most authorities would consider stunning makrūh, but as long as the animal is alive and has a pulse, the slaughter would still be considered ḥalāl.
6) Depending on which Islamic madhab one followed, the number of passages in the neck of the animal cut might be less for some opinions of Islamic law (however, a perfect cut in both religions would require the esophagus, trachea, arteries and jugular).
7) While the disconnecting of the spine is prohibited in both laws, in Jewish law this would render the animal treif, whereas according to the majority opinion in Islamic law, this ismakrūh but does not render the animal ḥarām (note that some authorities would view such an act as making the animal ḥarām).
8) Jewish law requires a visual inspection of the lungs and some other internal organs of the animal after slaughter. Specific defects associated with these organs makes the animal treif, whereas the total absence of any imperfection (i.e., adhesion-free lungs) renders the animal a higher level of kosher, called glatt kosher. If such a level of perfection was not achieved, but the procedure was followed, the meat would merely be kosher. And some type of defects would in fact render the animal treif even after proper slaughter. There is no equivalent to such a post-slaughter examination in Islamic law.
9) The animal's blood must be allowed to flow into the earth (or on the ground) in Jewish law (for example, it should not be gathered in a bowl), whereas there is no such prohibition in Islamic law. In practice, most Muslims slaughter and spill the blood on the ground as well.
10) Islamic law encourages, but does not require, that the animal faces the qiblah. Since this is not a requirement according to any madhhab, it is irrelevant to the question of whether kosher is ḥalāl.[6]
11) While the Jewish invocation (i.e., blessing) is not a necessary requirement for the meat to be considered kosher, it is in practice never left. This issue will be discussed in a separate section.
From all of these points, it is clear that these factors will not render kosher meat ḥarām; most are in fact rulings that make the halakhic laws stricter than their Sharʿī equivalents, and even the Islamic ones on this list are recommendations and not requirements. Hence, from the perspective of the Sharīʿa, these factors are not relevant.
Of course, because of some or most of these factors (especially the first one), ḥalāl meat cannot be considered kosher by Jewish authorities.
Major Difference – the Tasmiya Issue
There is one major differences between the two laws that cannot be overlooked and could potentially result in a verdict of taḥrīm,[7] and that is the issue of the tasmiya.
The Islamic opinions on mentioning Allāh's name at the time of sacrifice are well-known. It is clear that the majority of scholars (and the explicit texts of the Qurʿān and Sunnah) require the utterance of tasmiya before an animal is slaughtered. It is with this opinion in mind that we proceed. (It goes without saying that, for the minority who do not require tasmiya, obviously if they do not require a Muslim to mention the name of Allāh then a priori they would not require a non-Muslim to do so).[8]
Halakhic law states that the shochet should verbally bless the act of slaughter with a specific blessing.[9] While this blessing is not considered an essential requirement, in practice it is always done, and it is realistically inconceivable that a shochet intentionally abandons this blessing.[10]
The formulation of this blessing translates as:
"Blessed are you , Adonai [G-d], our G-d, Lord of the World, Who Sanctified us through His Commandments and instructed us concerning proper animal slaughter"
The wording clearly praises God, and therefore would be acceptable to the vast majority ofmadhhabs, since it is not a necessary requirement that the blessing be said in Arabic. However, the issue comes with respect to a unique blessing for each animal.
Since the Jewish faith insists that the name of the Lord only be invoked with good cause, theshochet does not repeat this blessing for each and every animal. Instead, the shochetconsiders one blessing to suffice for a series of animals with the condition that each animal is slaughtered without any significant pause or break from the previous one. [11]
Therefore, in theory, a shochet could sacrifice a few cows, and maybe even up to a hundred chicken, with one blessing.
All of this, of course, has relevance to the Sharʿī ruling on an animal.
For the minority that does not require tasmiya (in particular, the Shāfʿī school), this issue would not be relevant, and therefore kosher would be ḥalāl.
For those who subscribe to the position that allows one tasmiya for multiple slaughters,kosher meat would also be ḥalāl.
For those who require a specific tasmiya for each individual animal (in particular, the Ḥanafī school), kosher meat would not be ḥalāl unless it was known for sure that a blessing was given for that animal.
As a side point, there are reference to some Christian groups who required a slaughterer to sacrifice in the name of God.[12]
Conclusion
In light of all that has preceded, and in this author's opinion:
- While the Qurʿān explicitly allows us to offer (and therefore sell) ḥalāl meat to Jews, most observant Jews would not consider ḥalāl to be kosher because the animal would be slaughtered by a non-Jew (and there would be other factors as well).
- All kosher foods are permissible as long as 1) no significant amount of alcohol is present, and 2) any gelatin is from kosher slaughtered cattle or non-animal sources. If alcohol is used either for taste or in intoxicating amounts, the food prepared would be ḥarām; and any gelatin derived from animals not slaughtered with tasmiya is also ḥarām.
- Kosher meat being ḥalāl would depend on which madhhab one follows for the tasmiya: if one follows the opinion that one tasmiya suffices for multiple animals, kosher slaughtered animals would be ḥalāl. However, if one requires one tasmiya per animal, then in general such animals would be ḥarām unless one can verify that the blessing was said for that particular animal.
In this author's opinion, since the halakhic blessing is done over a specific group of animals and the slaughter is continuous, this blessing can suffice to fulfill the requirements of thetasmiya for that group of animals, and Allāh knows best.
Lastly, it is important that stronger ties be developed between observant Muslims and Jews so that we benefit from each other's experiences, unite against Islamophobic and anti-Semitic efforts to ban ritual animal slaughter, and perhaps also manage to influence somekosher plants to say a tasmiya for every animal.
---
10. The 118 Charities She Supported.
Because of her strong admiration to Mother Teresa's noblest character, she developed strong attachment to succor those people who are in need. In fact, some of the 118 charities that she has supported while she's still alive, and even she died has carried the legacy and the name that she had in continuing the legacy that she has started. Some of them are The Eating Disorders Association Dr. Barnardo's, The British Red Cross Centrepoint, The Leprosy Mission, and The Crusade to Ban Anti-Personnel landmines, Soho English National Ballet, and many more.
9. Her eldest Sister Romance with Prince Charles
Only few knew about the whirlwind romance of her former husband, Prince Charles to her elder sister. In fact, Prince Charles dated her eldest sister, Sarah Spencer in the late seventies, but it was a short romance then. They actually met while Prince Charles was dating her sister, and there was indeed a resentment on the part of Sarah Spencer, when he was about to marry her sister Diana. Despite of the unlikely, and untimely meeting, their love for each other blossomed, and came to its finality when they vowed to each other before the holy altar to be married in 1981 wherein more than a decade after, that marriage were discontinued through a formal divorced.
8. She suffered Chronic Bulimia
She became the role of being charitable, but she had been a standing witness of overcoming serious type of depression which is called chronic bulimia. This is a type of eating disorder that Princess Diana suffered and overcame wherein some had stated that it was due to her failing marriage with Prince Charles. To those who were not aware, she experienced this disorder in 1981 and she sought several treatments back then. It is to be understood that even before she tied a knot to her husband, Prince Charles, she was already diagnosed of this health problem. All of these things were revealed in the book entitled Diana: Her True Story which was written by Andrew Morton. She did combat the effects of it in her life when she became open and courageous in revealing before the public the ordeal that she was experiencing. People might have misunderstood her, and others who are also enduring it, but misconception, and wrong notions about it were given light because of her strength to face the world and admit that she had chronic bulimia.
7. She Became Nanny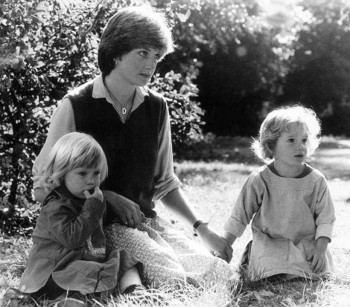 Diana was a very discreet, simple, and loving person. In fact, she accepted a job to be a nanny and at the same time assistant for kindergarten at the Young England which was located in Knightsbridge. She was working for 3 days in a week wherein her assignment was to look after the boy named Patrick Robertson. In fact, no one really knew that Princess Diana was already dating Prince Charles and she was only 19 years old then, and Charles was 32.
6. She Loved Mother Teresa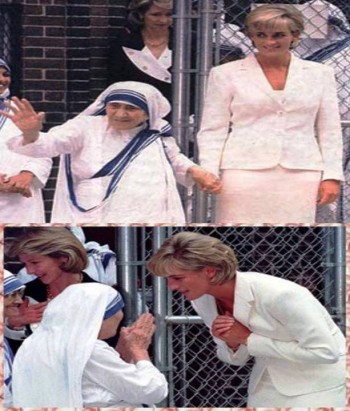 The relationship that Diana has chose to established with Mother Teresa did not put a bridge between them despite that Mother Teresa lived in India while Diana lived in England. Hence, they have so many similarities aside from the good deeds, and charitable works that they shared and did together. In fact, because of so much love that Diana had for her, she considered and treated Mother Teresa as her mother. Who would have imagined that after Diana's death, in just a week, Mother Teresa also passed away due to natural death? They even extended admiration to each other wherein Mother Teresa exclaimed that Diana was her daughter, while Diana reciprocated that love by humbly saying that she was a very, very small Mother Teresa.
5. Four of Her Ancestors Were Mistresses
The term mistress is the title being given or called to the unmarried lover of the king of England. For everyone's information, four of Diana's ancestors became mistresses to British Kings. Based on the history, the primary reason of her parent's divorce during that time was the series of philandering or unfaithfulness on the part of his father which also left a deep stigma and wound on Diana's life. Nonetheless, she was able to overcome the ill-feelings and effects, that she experienced during her childhood when she fell-in love to Prince Charles. Moreover, there were few names mentioned about the illegitimate children that her father had with her mistresses, but the names on her ancestry who had been mistresses to Kings in Britain were not named.
4. Her British Aristocracy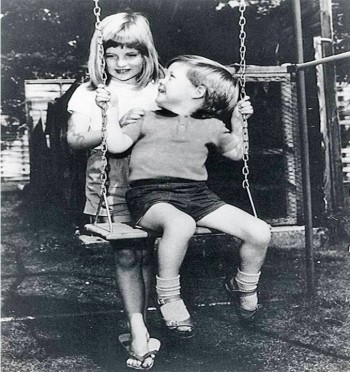 Diana has actually descended from different notable ancestry lines such as James. She might be a commoner, but she was included in the line of British Aristocracy that rooted down from King Charles II. Her biological father was actually a direct descendant of King Charles II. She was even related to some of the famous people in the US like the 8 U.S. Presidents, George Washington, Franklin D. Roosevelt, Calvin Coolidge, John Adams, Grover Cleveland, Millard Fillmore, John Quincy Adams, and Rutherford B. Hayes.
3. Diana's Physical Characteristics
When it comes to her personality, she was a typical shy type of girl who was known for keeping traditional and conservative principles and background. Hence, she was really attractive. She stands 5'10 tall, has blue eyes, blond hair, photogenic, and had an almost perfect body figure. Moreover, she kept her natural and pleasant attitude to everyone even to the media despite that she's not feeling good inside especially during the toughest moment in her life that she had nothing to share her disappointments, agony, and sorrows when there was a rumor circulating that her husband was cheating on her prior to her marriage which became evident with her sudden weight loss. It could be compared prior to her wedding, and after the wedding.
2. She Became Lady Diana Spencer
She received the title of Lady Diana Spencer right after her father became the 8th earl of Spencer after her grandfather died, Albert Spencer in 1975. She was only 14 years old then when the official title or address was given to her. Hence, despite of that, she remained humble and quiet while growing up, but she had shown great interest in dancing and music.
1. Her Family Lineage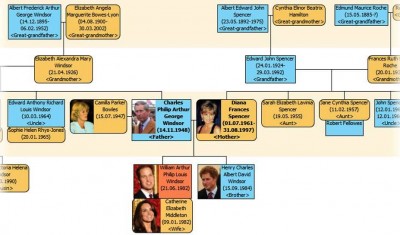 Her whole name was Diana Spencer or Diana Frances, and her parents' names were Earl Spencer or Edward John Spencer and Franches Roche. She was born and raised in Sandringham, Norfolk on July 01, 1961. Her family was an important line and family for the Royal Family because of their close alliances for few generations. She was the fourth child among the 5 children of her parents, and her parents got divorced when she was barely 7 years old.